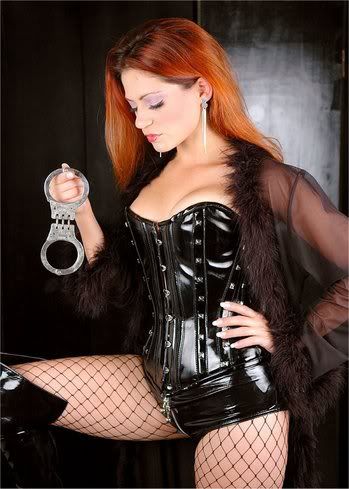 Today was an absolute blast. After the pony boy races we dressed Ralph & John in some tight shiny latex maids uniforms, and gave them each a bucket of cleaning supplies. We showed them the 4 bathrooms upstairs, and gave each of them a kick in the ass to get them started. We then took Drew for some one-on-one time in the dungeon. Leanne forced him to strip naked, Liz tied him up neatly and quickly, with his arms handcuffed above his head, and a spreader bar between his ankles. I came along dressed in fishnets, a black vinyl corset, and thigh high boots and slid myself up against his body - how his cock jerked in the air :-) I slowly, carefully and painstakingly twisted his nipple in my fingers, until I was sure he thought it was going to rip right off ;-) I didn't want his cock getting too carried away now, did I?
Just as Drew yelped in pain, I took his earlobe in my mouth and gave it a nice stinging little bite. Now he was well and truly warmed up for some action! Liz grabbed him by the balls and squeezed hard. She then whispered sweet nothings in his ear... about how he was totally helpless and at our mercy, and what we were going to do with him....later..
Twenty minutes of pain and cock torture was brought to a close when Liz and Leanne each took a nipple in their mouth, and licked, sucked, and nibbled on it. As his cock bounced back to attention, I grabbed it in my hand. He was about to explode, and we didn't want that! WHAP went Liz's crop against the tip of his cock. That put a perspective on things alright ;-) I turned around so my back, or more accurately my ass was against him, and I slowly, and seductively bent over in front of him, pushing up against his cock as I did so.
Leanne took her long fingernails and ran them down his stomach, all the way to his groin. She then grabbed him by the balls, and ran her fingernails up the underside of his cock. Liz decided it was time to put him on his back, so I unhooked his hands from the hook above, and Liz took his spreader bar from between his legs. We laid him down on the rack, and restrained his hands, then his feet.
Liz removed her shorts, revealing a sexy little pair of leather thongs, and straddled his face. All of a sudden his cock was twitching up and around, straight up in the air, and I decided to have some fun with it! I squatted down and sat on his groin, angling his cock so that it went straight up against his belly, and laid against my fishnets.
He now had two of us straddling him, and man Liz was doing one hell of a job riding his face. She was red in the face, and I could tell she was about to cum. Meanwhile, I just kept sitting on his cock, twisting his nipples harder and harder. With each twist, his cock gave another little twitch. Moments later Liz got off, and Leanne took her place. Leanne is very quick at getting herself off, and as she's sitting on his tongue, she's using her finger to play with her clit. She got off as soon as she was done, and that just left me......
I decided a more cruel form of torture was in order - sitting him up, restrained, and having the 3 of us make out and play in front of him. Leanne and I decided to dominate Liz (in a playful, non sadistic kind of way) ;-) We stripped her pants off, and had her arms bound behind her back, and then we went to town licking and fingering every hole ;-) It was fucking hot!!
Drew was dying... seconds into it, with no one touching him, his cock exploded all over the place. It was like a fucking gyser! Cum sprayed everywhere. It was really bloody hot!

Anyway, that's all I've got time for... everyone has just left, and I'm pretty exhausted. I'll log on tomorrow to tell you more.... Oh though, before I go, I'm going to look through my calendar and see when I can organize another little "open house". However, with it being summer, I also have some plans ahead. In two weeks I'm off to Ocean City NJ for just 3 days to stay at this old beautiful Victorian Inn overlooking the water. I will of course have my laptop down on the beach with me some of the time! Do you live near there??
And lastly, is anyone reading this in England, or Ireland? If so, I'm CRAVING strawberry or lemon bon-bons (you know the sweets with the powder on them, and chewy inside)? And, I need some Ambre Solaire suntan lotion - either NO spf, or very low SPF... Anyone want to hook me up??? I'd be eternally grateful!